Responsibly Sourced in Alaska and Norway
Legs Weight 1-1.5 pounds Each!!
Fully Cooked and Flash-Frozen
May Include Claws and Leg Pieces
Each Leg Ships With 4-5 Segments Minimum
FROM SHORE TO DOOR, 3 DAYS FRESHER THAN THE GROCERY STORE
We have finally added this highly requested item.....
Caught in the waters of Bristol Bay and Norton Sound, the red king crab is the most prized species of crab in the world. Alaska's largest harvest of red king crab takes place in the waters of Bristol Bay. Roughly 100 boats participate in the fishery and harvest millions of pounds over a period of 2 to 3 months. Alive, red king crab are actually a dark burgundy in color. When they are cooked they turn bright red- with scarlet-red highlights on the top part of the shell, and especially around the toes. Taste-wise, true red king crab is the best in the world. The meat is snow-white, with highlights of bright red.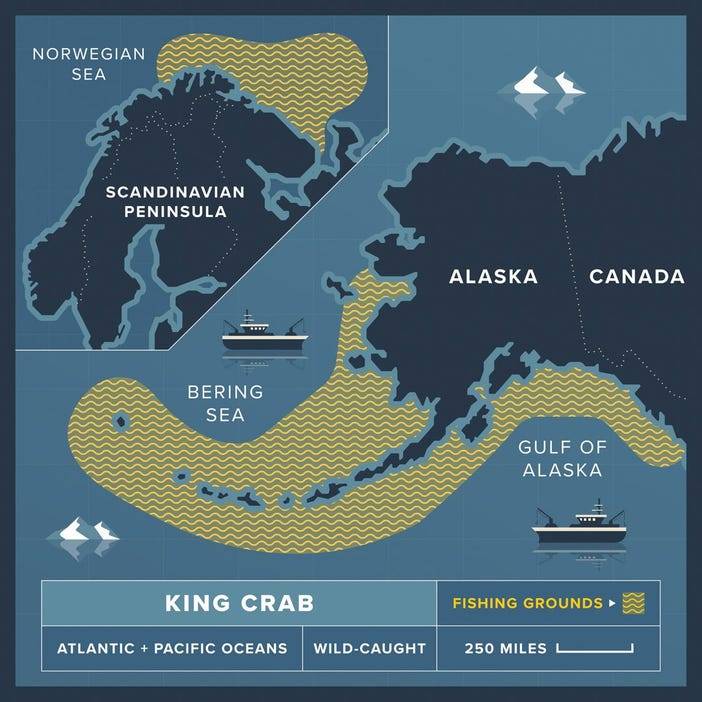 Jumbo King Crabs legs are the largest crab caught in the world and each crab cluster is bursting with delicious crab meat your family will love. Alaskan Jumbo King Crab Legs and claws are delivered to your door year round. These fresh crab legs are shipped right to your doorstep. Jumbo king crab legs have flavor, quality and texture that's unmatched. Your order will contain both alaskan king crab claws and legs which make for a stunning entree for family and friends. They arrive pre-cooked and ready to eat after steaming, sauté, broil, grill or roast. Serve with butter or dipping sauces. Our Alaskan King Crab legs for sale are full of flavor and are the best crab legs you will ever have. Fresh, delicious and packaged in great condition. Spectacular taste with tender and juicy meat.
A rare but super delicious treat -
These Colossal King Crab Legs are sometimes referred to as 9/12 king crab legs. This represents 9 to 12 legs per ten pounds, making each leg almost 1 POUND!
Our red king crab legs are frozen shortly after harvest to preserve top quality.
We source our red king crab legs from the icy arctic waters of the Bering Sea, and a network of our trusted brokers for over 20 years.
This is a highly sustainable fishery where the catch is very closely monitored which is why the prices are so high. As the catch quota goes down, the prices have been increasing - sorry guys, but at least these will be around for years to come.
May arrived partially thawed - that is ok - either consume or freeze upon arrival
Nutritional
Nutritional Benefits of Alaskan King Crab Meat
Crabmeat is a high-protein meat source that comes packed with vitamins and minerals. Like other shellfish and seafood we sell, crab could be added to the growing list of "superfoods" health experts recommend.
Crabmeat offers a whopping 16 grams of protein per 3 oz. serving. Crabmeat also contains vitamins B12 and C, and the antioxidants zinc and selenium. Zinc helps support bone mass and immune function, while selenium aids in preventing cellular damage. And there's more. Crabmeat is also rich in omega-3 fatty acids, which help lower inflammation and can reduce the risk of heart disease.
PREPARING FOR YOUR CRAB FEAST
Line the table with brown paper or newspaper (it will get messy!).
Melt some butter and grab some extra seasoning for dipping.
Grab some mallets for cracking the claws.
HOW TO COOK ALASKAN CRAB LEGS
Let the crab legs thaw completely.
Place a steamer basket in a large pot with enough water to reach the bottom of the basket.
Once the water is boiling, place the crab legs inside, season and cover.
Steam the crabs for five minutes or until the meat is hot throughout.
If you don't have a steamer basket on hand you can also reheat the crabs in the oven for approximately 10 minutes at 375°F.
SHIPPING INSURANCE
Orders are fully insured against damage in shipping. If you receive any damaged shipment, please call so we can organize a new shipment, or help process a claim through Route Insurance our Insurance carrier.
Weight: 0.000 kg

Ship to:

Courier
Shipping Cost (USD $)

We ship to over 200 countries worldwide